Discover more from Investigative Economics
Investigative, data-driven, independent news and economics
Puerto Rican Bonds Bought Cheap Following Failed Gas Pipeline
As Puerto Rico struggles to recover from the aftereffects of Hurricane Maria, new details have emerged as to how the island got into the energy and financial quandary it's now in.
Two financial groups bought Puerto Rico's bonds after they crashed following the 2012 cancellation of the Via Verde natural gas pipeline.
Goldman Sachs and the Boston-based hedge fund The Baupost Group LLC bought the island's distressed bonds at a significant discount in the following three years when few other investors were interested.
The purchases of the bonds in 2013 to 2015 came after both supported environmental groups and a congressman who opposed natural gas exports and the 92-mile Vìa Verde pipeline across Puerto Rico. Then-Gov. Luis Fortuño supported the pipeline, saying a shift of electricity generation from expensive imported oil to cheaper natural gas would boost the economy.
The island's electric utility, Puerto Rico Electric Power Authority (PREPA), estimated that development of the pipeline would eventually save about $1 billion a year in fuel costs. Imported oil accounts for almost half of the island's electricity generation.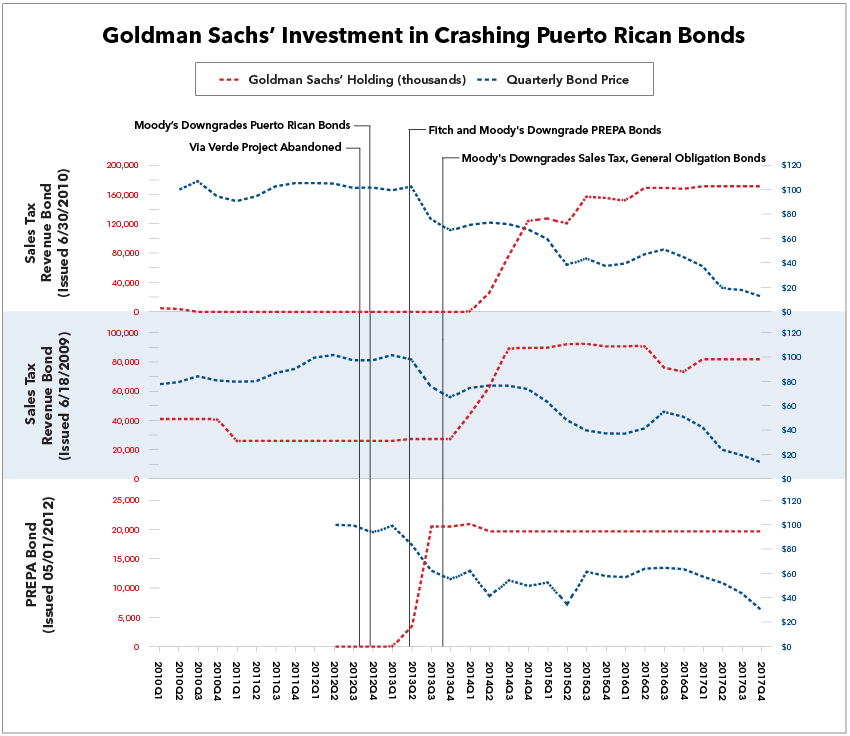 Bonds Bought
Goldman Sachs bought hundreds of thousands of Puerto Rico's sales tax and electric utility bonds, which are exempt from federal, state, and local taxes, after their prices dropped in 2013. The firm currently holds at least $5.4 billion worth, according to Bloomberg Data.
Baupost Group purchased almost $1 billion worth of sales tax bonds, otherwise known as COFINA bonds, according to recently released court documents.
Baupost sued Puerto Rico earlier in 2017 when the island tried renegotiating bond payments. Because of the financial instability, Puerto Rico's other plan for an offshore LNG gasport at Aguirre has been put on hold.
Via Verde
Environmental groups, particularly the Sierra Club and Casa Pueblo, an environmental group in Puerto Rico, fought the pipeline because of its potential risk of spills and damage to habitat and wildlife, and because they wanted to reduce reliance on fossil fuels.
The pipeline would have crossed forests, natural reserves and private lands participating in conservation programs, affecting more than 40 endangered and threatened species, the Environmental and Natural Resources Law Clinic at Vermont Law School said in an October 2011 notice of intent to sue.
PREPA abandoned the pipeline in October 2012 because of the public outcry.
Soon after, bond ratings agencies Moody's and Fitch downgraded Puerto Rico's debt, specifically mentioning the Vìa Verde project and the ongoing dependence on imported oil.
Support for Environmental Groups
In the few years surrounding the pipeline protests, Goldman Sachs and Baupost Group supported two environmental groups that were against the pipeline, the Sierra Club and the League of Conservation Voters.
Baupost's risk manager at the time, Scott Nathan, also sat on the League of Conservation Voters' board. Nathan and an ex-Goldman managing director, Lawrence Linden, also were some of the largest donors to the League's PAC and super PAC around that time, giving about $920,000 combined between 2008 and 2014 according to numbers from the Federal Elections Commission.
In 2015, Goldman Sachs led the underwriting of a billion-dollar initial public offering for solar power company Sunrun. The company's CEO and co-founder, Lynn Jurich, was a Sierra Club Foundation board member. Sunrun was a contributor to the Sierra Club and is currently working on installing solar power in Puerto Rico.
From 2008-2014, Goldman Sachs' PAC would donate over $9,500 to the campaign of the a congressman who spoke against the pipeline, Luis Gutierrez (D-Ill.), whose parents migrated to Chicago from Puerto Rico in the 1950s. The PAC also donated $2,500 to his outside spending group, the Immigration Reform Fund.
Goldman Sachs also gave Sierra Club a $20,000 grant in 2010, but it was for a project unrelated to Puerto Rico.
Both Goldman and Baupost have invested heavily in oil companies including BP (Goldman and Baupost), Exxon Mobil (Goldman), Cheniere (Baupost), and Royal Dutch Shell (Goldman)