Discover more from Investigative Economics
Investigative, data-driven, independent news and economics
For Utilities, Natural Gas Responsible for Massive Price Spikes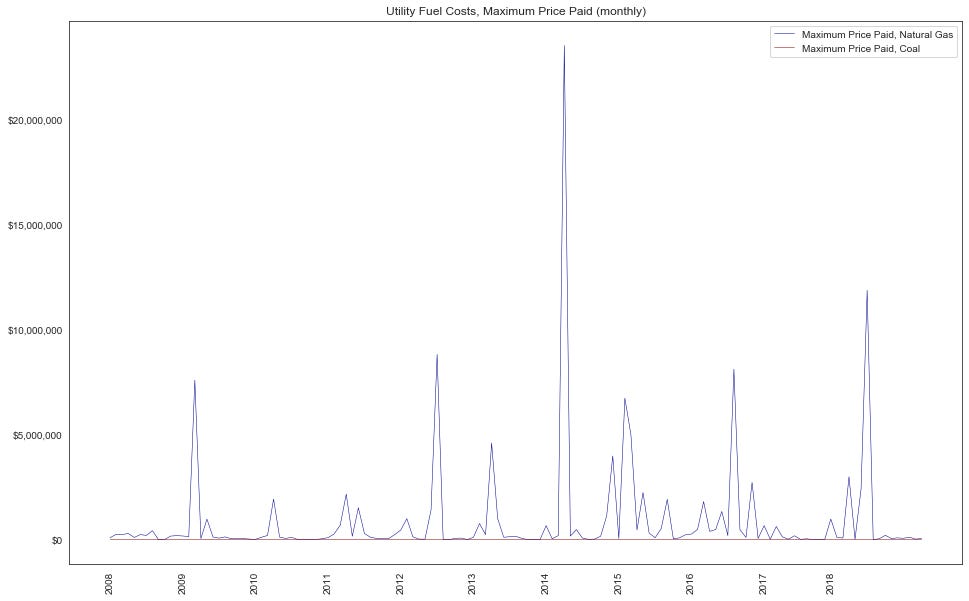 Natural gas prices are at historic lows in the last few years as a glut of production has flooded the market. Prices at the Henry Hub are now regularly equal to coal in terms of dollars per megawatt-hour. As a result, natural gas has surpassed coal as the most common source of fuel in the South and Northeast.
But those cheap prices for natural gas now come with large spikes in price that can be 10 to 10,000 times the median price of fuel according to U.S. Energy Information Administration (EIA) data analyzed by Investigative Economics. The price spikes usually coincide with small purchases, but the difference in price is so great that it can mean tens of millions dollars in total cost difference.
Four times in 2014, the Salt River Project power utility in Kyrene, Arizona paid $23,538 per million btu from Kinder Morgan—over 54,000 times the median fuel cost. Yet there were 250 other times over the last decade and a half that the operator paid rates for natural gas in the 99th percentile of fuel costs, not just from Kinder Morgan and not just for their Kyrene, AZ location.
In 2018, the Public Service Company of Colorado bought 902 McF (thousand cubic feet) from the Comanche gas plant for $2,430 per million british thermal unit (btu), over 5,651 times more than the median cost that they usually paid: $.43 per million btu.
Outside of these price spikes, rates were relatively consistent. Ninety-nine percent of reported costs were within one deviation from the mean of the price of fuel.
The spike in prices wasn't consistent across utilities. For some operators and suppliers, like Kentucky's LG&E, there were never any substantial price spikes.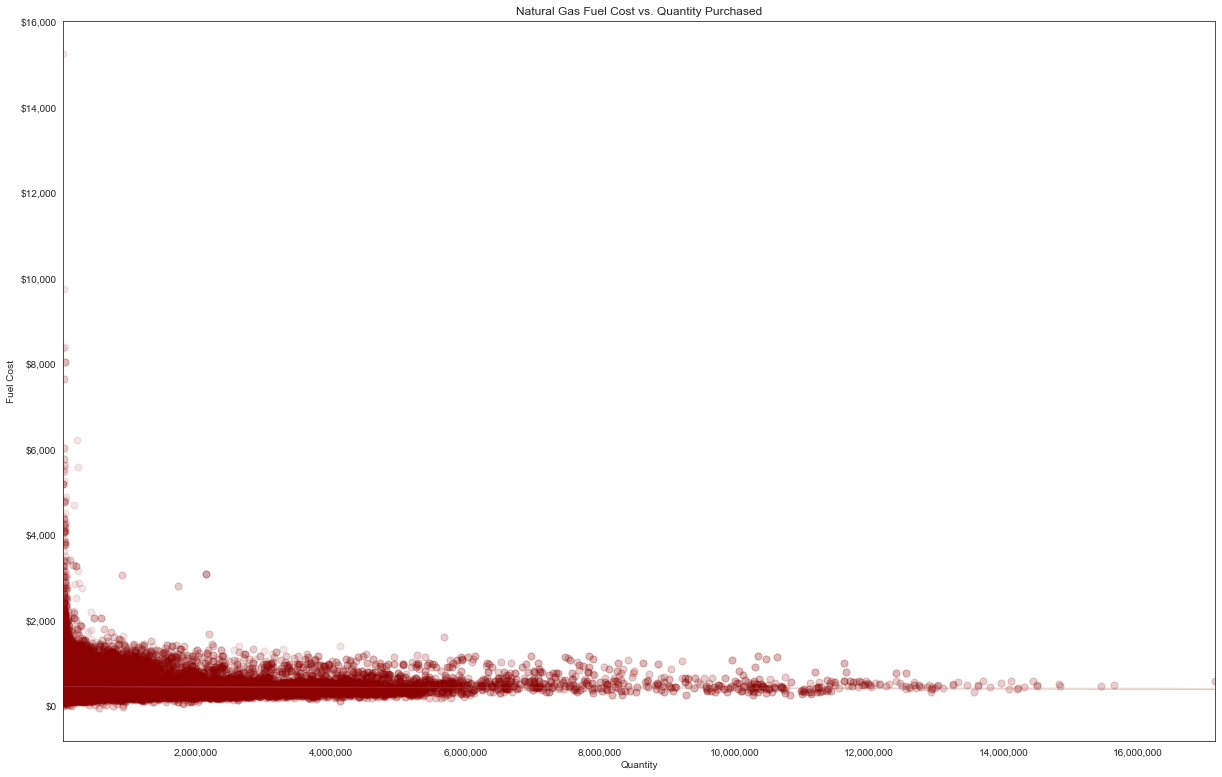 These costs are not just for the fuel itself. They include purchase and delivery costs as well, but the effective result is that the utilities pay millions over standard costs to receive fuel for generation.
Models of fuel price spikes showed that excessive prices regularly occurred surrounding purchases of small amounts of fuel via pipeline, indicating that the high costs might be due to periods of high demand. If the purchase quantity wasn't particularly small, it was specific operators—like Salt River, Southwestern Electric Power Co, Virginia Electric & Power, or Alabama Power among others—that were repeatedly associated with price spikes.
A previous Investigative Economics story highlighted how the increasing reliance on natural gas for power consumption has led to numerous concerns about electric grid resiliency—the ability for utilities to withstand short periods of high instability—from energy agencies and independent research groups. The Department of Energy released a report of their concerns in 2018.
Purchases of petroleum for power generation could also regularly see prices in the 99th percentile of costs, but petroleum is regularly an expensive fuel to purchase. At a median price of $1.7 per million btu, it's over three times more expensive than natural gas on average and often used only as a backup fuel in small quantities during periods of high demand according to EIA.
Besides petroleum, the volatility in price of natural gas is relatively unique. Other fuel types such as coal, petroleum coke, or other gas fuels did not have the same spike in prices. The EIA data does not include power sources such as nuclear, wind, and solar.
Coal and Chlorine Content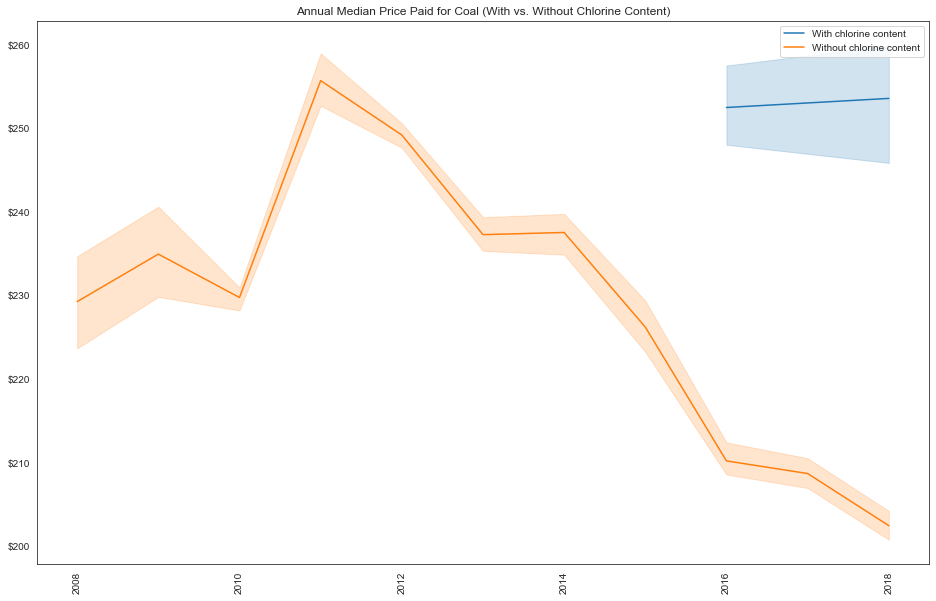 While coal has not seen the price spikes of natural gas utilities, coal with chlorine content now fetches a substantially higher price since 2016—25 percent more than coal with no reported chlorine.
Since the Mercury and Air Toxics rule (MATS) went into effect in 2012, utilities had until 2016 to be in compliance with the rule for mercury emissions.
Coal with substantial chlorine content has been shown to limit the release of mercury during coal's combustion, which might help plants comply with the MATS ruling according to Power Magazine.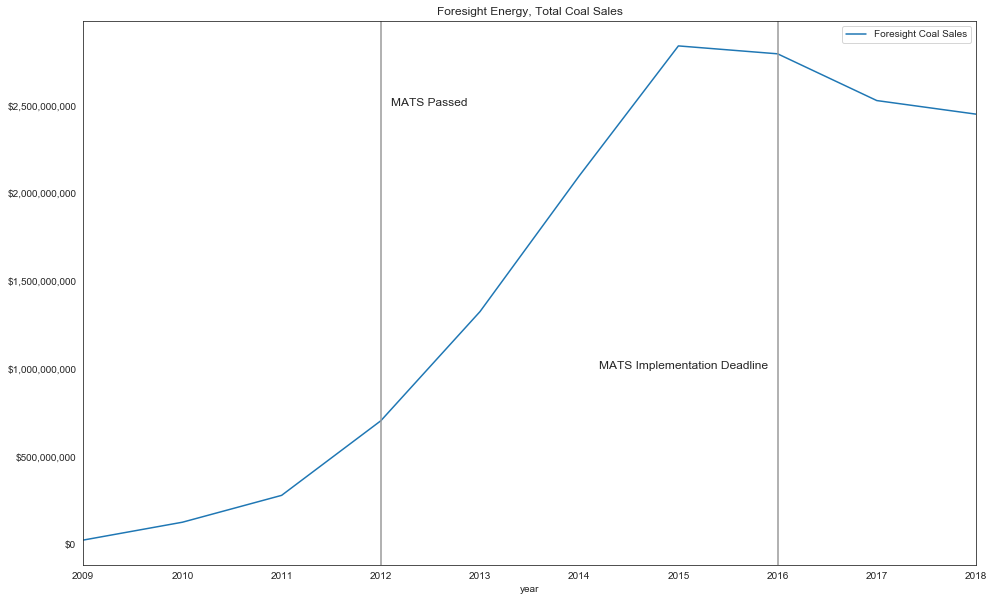 The higher price and demand for chlorine content coal may have helped spur coal purchases from companies like Foresight Energy that specialize in extracting thermal coal from the Illinois Basin that has a higher chlorine content. Total sales of coal supplied by Foresight went from almost nothing in 2009 to almost $3 billion in 2016.
The owner of Foresight, Chris Cline, was dubbed the New King of Coal for reviving Illinois' coal industry. Cline and his energy develop investment group, the Cline Group, were large contributors to Republican representatives, spending over $838,000 since 2008, with the vast majority of that, over $518,000, spent in 2015 alone according to numbers collected from the Federal Election Commission (FEC). Representative from Foresight Energy donated at least $98,000 over a similar time period to candidates like Mitch McConnell and Mitt Romney. Cline died in a helicopter crash last year in the Bahamas.