Discover more from Investigative Economics
Investigative, data-driven, independent news and economics
Few Labor Violations for Wells Fargo Amid Accounts Scandal
Wells Fargo is one of the largest banks in the country with over 269,000 employees, yet it has rarely been fined or forced to pay back wages by the Department of Labor (DOL) according to an analysis of DOL data.
The lack of violations runs counter to the numerous complaints and multi-million dollar settlements with the Office of the Comptroller of the Currency (OCC), Consumer Finance Protection Bureau (CFPB), and the city of Los Angeles for its supposedly excessive sales practices.
Financial analysts working for the bank might be exempt from many Fair Labor Standard Act (FLSA) rules because they fall under the act's administrative exemption and wouldn't qualify for overtime.
But financial services companies are regularly found in violation of FLSA rules for misclassifying non-exempt workers as exempt, and Wells Fargo received a surge of FLSA lawsuits around 2008-2011.
The Obama administration's DOL in the fall of 2016, under then-Secretary Thomas Perez, said it was giving Wells Fargo a "top to bottom" review of labor and employment practices following accusations and statements that the agency didn't act to protect Wells Fargo employees who alerted regulators of the bank's excessive sales practices.
In 2016, a group of Democratic Senators wrote to Labor Secretary Perez asking him to investigate Wells Fargo for FLSA violations because of the accounts scandal and numerous FLSA lawsuits against the bank.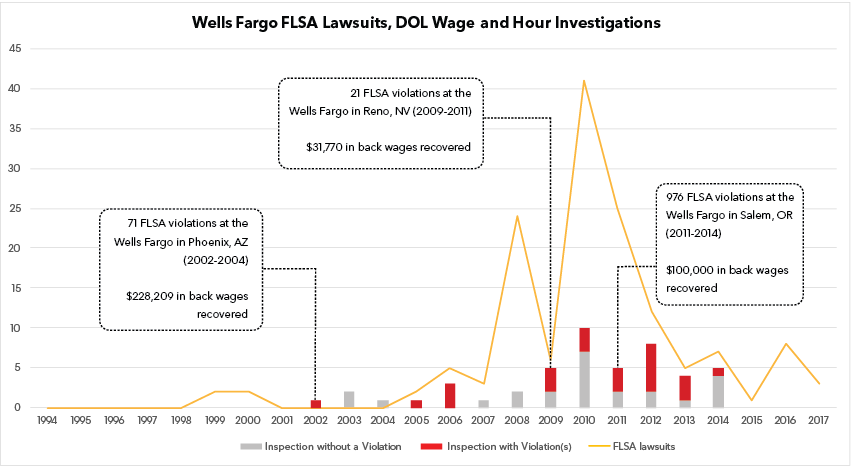 Inspections But Few Major Violations
Since 1994, Wells Fargo has been fined only $1,100 and paid out only $385,000 in back wages, much less than other banks with significantly fewer locations.
The Labor Department investigated Wells Fargo 45 times since 1994, second only to Bank of America.
But Wells Fargo and Bank of America have the first and third largest number of locations respectively, according to U.S. Bank Locations, a public database of bank branches based on government data. Around half of those inspections for both banks found no wage and hour violations in the DOL data.
The bulk of the DOL's citation of Wells Fargo for wage and hour violations came in 2014, when the agency ordered the bank to pay $100,000 in back wages for 976 Fair Labor Standards Act violations at its Salem, Ore., branch. It was the hundredth largest back-wage recovery by the Labor Department for financial institutions.
In another incident, Wells was cited with 530,000 violations—two policy violations multiplied by the number of employees affected. But according to a Freedom of Information Act request it was largely related to an outdated Family and Medical Leave Act (FMLA) policy and the bank wasn't fined.
No FLSA violations—which governs minimum wage, overtime pay, and recordkeeping—were mentioned.
FLSA Lawsuits
Wells Fargo was hit with 111 FLSA lawsuits from 2008-2011, following the financial crisis and the bank's takeover of North Carolina bank Wachovia.
Yet, with a flood of FLSA lawsuits, many detailing uncompensated overtime pay and an excessive sales culture, few led to wage and hour inspections. And of those inspections, few found any violations of overtime law or other wage and hour concerns.
Dena Sokolow, counsel with Baker Donelson and has worked on FLSA cases, said that lawyers representing defendants may typically alert the DOL of potential violations to help their case.
Wells Fargo did not respond to request for comment on the spike in FLSA lawsuits or sales quotas.
Financial Services and Overtime Rule Exemptions
Additionally, Sokolow said that while the DOL's administrative rule exempts financial analysts and external sales departments from overtime requirements, that rule may not apply to the sales employees who aren't doing credit checks and financial analysis.
"The grey area is in the classification of whether the employee is exempt or not; that's the quicksand," Sokolow said.
But once a worker is considered exempt from overtime rules, the company can make as many demands as they want, whether it be one sale a day or one thousand.
And in general, Sokolow believes that banks try to live up to the rules, and the DOL is good about enforcing them.
"Otherwise big banks misclassifying workers could lead to millions and millions of dollars in lawsuits," she added.
Compared to Wachovia
The Charlotte, North Carolina bank that's now part of Wells Fargo had its own labor issues prior to the buyout in 2008.
It was forced to pay back almost $5.8 million in back wages from a DOL investigation between 2003-2004 related to its commercial banking arm. It was the largest single back wages recovery for a financial institution and it had the seventh largest in total violations.
Relatively Few CFPB Complaints
Despite the CFPB handing down the largest fine in the agency's history against Wells Fargo related to the accounts scandal, $100 million, the bank doesn't appear that often in the agency's consumer complaints database.
The bank had many complaints in total—over 48,000—but based on its size the total was relatively small and in line with other similar banks like Bank of America, PNC Bank, Fifth Third, SunTrust, and M&T.
It received a little over 10 complaints per consumer loan on average, and only 1.3 complaints that eventually led to some relief, monetary or otherwise, for the customer.