Argentine Diplomat Accused Vulture Funds of Political Manipulation for Bond Payoff
Documents released by the FBI to Muckrock show that Héctor Timerman, ex-Argentine ambassador to the U.S., told the agency that holders of Argentinian debt were leveraging american politicians to force full payoff of Argentine bonds.
Timerman told the FBI that in 2010 then-U.S. congressman Eric Massa (D-NY) wanted Argentina to pay back Argentine bondholders represented by the American Task Force Argentina (ATFA) in full because his political future was dependent on it.
ATFA is mainly supported by the financial group Elliot Capital Management headed by Paul Singer, who has been in an ongoing dispute with the country's leaders for full bond repayment since 2001 when the country defaulted on their bonds. At the time, it was the largest default in history. The investment funds purchased the bonds for thirty cents on the dollar with the hopes of full repayment later on.
The dispute with the investment funds, sometimes referred to as vulture funds, led ongoing lawsuits and the seizure of an Argentinian naval vessel.
According to Timerman's interview, Massa offered to open up U.S. markets for Argentinian lemon imports during discussions at Massa's home. After Timerman rebuffed Massa's offer, Massa introduced legislation later that year to place a financial embargo on Argentina for non-payment on those bonds.
Massa did introduce the Judgment Evading Foreign States Accountability Act of 2009 in May of 2009, but it didn't go anywhere.
Timerman died in prison in December of 2018 after being placed under house arrest in 2017 related to accusations of a coverup of the 1994 bombing of a Jewish community center.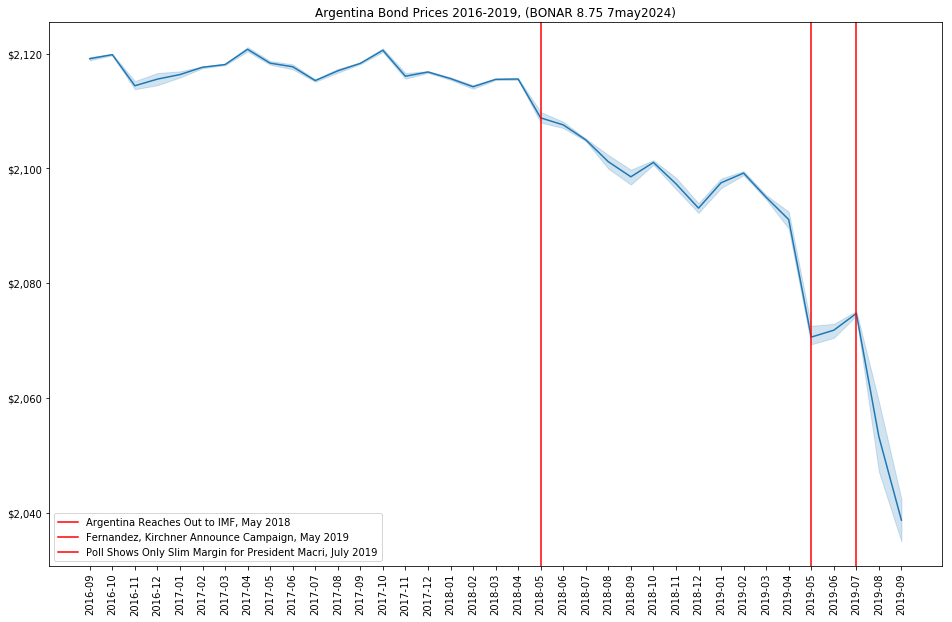 Timerman worked as general consul for the administration of President Néstor Kirchner during the bond repayment disputes as well as being appointed to foreign minister under his Kirchener's wife's, Cristina Fernández de Kirchner, government.
While the vulture funds sought full repayment, the Kirchners were dogged by corruption allegations during their presidencies but neither her nor her husband were ever found guilty of any wrongdoing, although Cristina still faces a trial on charges of bribery, embezzlement, and money laundering from her time in office.
Bond Prices Fall Following Election
Prices on Argentine bonds have recently collapsed as the presidential campaign of Alberto Fernandez, whose vice-president is Cristina Fernández de Kirchner, has inched closer and closer to victory. Bond prices started to fall around May of 2018 as the country reached out to the International Monetary Fund (IMF) over economic struggles
But bond prices fell further as Fernandez and Kirchner entered the race. Prices dropped in May following their first announcement of running for officeaccording to data from Cbonds.
In July, Moody's revised the country's rating from stable to negative over increased uncertainty and bond prices dramatically fell by half immediately after a poll showed current president Macri with only a slim margin of victory.
Prices have only fallen further with the primary victory over Macri in August and announcements that the Argentinian government wants to restructure the country's bond debt. Macri's government had agreed to a substantial payout of the bonds in 2016.