Discover more from Investigative Economics
Investigative, data-driven, independent news and economics
Activist Group Reaps Drug Discounts Under Federal Program
The AIDS Healthcare Foundation (AHF) is a global nonprofit that receives pharmaceutical drugs at a steep discount through the federal 340B drug program.
AHF is then reimbursed by insurers at a higher price for the medication, and it can use the profits to provide more healthcare for its patients.
But while the group took in over $1 billion in revenue last year, it provides relatively little in the way of healthcare services. Instead, AHF uses its proceeds to spend on unsuccessful lawsuits and failed ballot measures over drug prices, and maintains an odd relationship with a drug manufacturer that it simultaneously criticizes: Gilead Sciences.
It's unknown how much of AHF's political activity is funded through the 340B discount drug program.
There are few requirements to disclose the details of spending related to 340B drug discounts, and AHF is unwilling to provide them.
But revenue numbers show the organization is reaping large profits on high drug markups, potentially related to drug discounts.
Under 340B, drug companies participating in Medicaid agree to provide outpatient drugs to 340B covered entities at significantly reduced prices, according to the Department of Health and Human Services (HHS). Eligible organizations or covered entities include Ryan White clinics and state AIDS drug assistance programs, Medicare and Medicaid disproportionate share hospitals, children's hospitals, and other safety-net providers, according to the HHS.
The discount drug program has come under increased scrutiny recently as Republican lawmakers asked a group of hospitals for details in September on their discounts and what kind of patients are getting the discounted medications. In addition, the Centers for Medicare & Medicaid Services (CMS) recently proposed limiting Medicare payments to hospitals involved in the 340B program. The 340B program itself is administered by a different HHS agency, the Health Resources and Services Administration (HRSA).
Responding to to the potential Medicare cuts for 340B-participating entities, a bipartisan group of 228 members of Congress in late September voiced supportfor the drug discount program, especially for rural and safety-net hospitals that lean on those discounts to subsidize their uncompensated care costs.
How Proceeds Are Used
Press officer David Bowman for HRSA said that the agency does not know or control how proceeds from 340B discounts are spent—towards comprehensive care or otherwise.
The lack of transparency has drawn the ire of the pharmaceutical industry which has been critical of how proceeds from drug discounts are spent, particularly by hospitals.
Sabrina Siddiqui, a spokesperson for the Alliance for Integrity and Reform of 340B, which represents clinical care providers and pharmaceutical companies, said that there is ongoing abuse related to hospitals that "aren't required to report how they are using revenue generated from the program."
Nicole Longo, senior manager of public affairs for Pharmaceutical Research and Manufacturers of America (PhRMA), said that hospitals "have no reporting requirements when it comes to 340B revenue they generate."
Defending 340B
But Ted Slafsky, president and CEO of 340B Health—an advocacy organization that represents health-care providers in the 340B program—said that "everybody is on board with the idea of transparency for 340B."
Instead, Slafsky added that hospitals are more concerned about potential restrictions on how its proceeds are spent.
"Hospitals are confident in knowing how to provide care in the best interest of the patient, and they don't want to see limitations as to what can and cannot be prescribed," he said by phone.
Slafsky added that HHS was supposed to implement a database of drug prices for safety-net hospitals in the 340B program so they wouldn't be overcharged, but such a transparency program hasn't been implemented in the seven years since it was requested.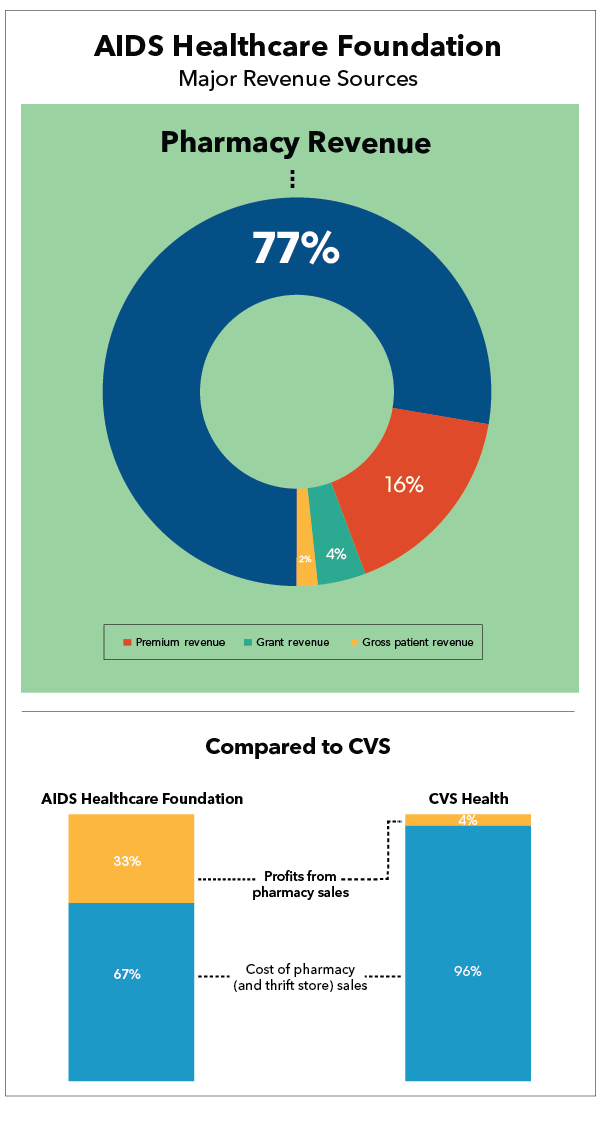 Revenues
According to annual reports, AHF brought in over $1 billion in revenue last year, but the vast majority of that revenue—77 percent—came from pharmacy sales. Gross patient revenue only accounted for 2 percent. 
The amount AHF takes in from patients, $17.8 million, is less than what the group spent in 2016 on a failed ballot initiative ($18.7 million) and what the group spends in professional services ($20.7 million)—which would ostensibly include legal fees for the lawsuits the group brings.
AHF also earned a gross profit of 33 percent from pharmaceutical sales alone, implying the organization may be getting a sizable portion of its drugs at a discount.
In comparison, CVS Health had a gross profit of pharmacy sales of 4 percent in the last year according to SEC filings.
The group lists 1,732 employees in the United States, but it may be hard to tell how many of those are related to medical care.
In California, where one-quarter of AHF's U.S. health-care facilities are located, state reports show only a total of 37 full-time equivalent medical employees. Of those, just nine are primary care providers—physicians and physician's assistants.
The organization runs an extensive pharmacy network—AHF Pharmacy—with 46 locations across 11 states, and brought in over $10 million in in-kind contributions from its 21 thrift stores.
AHF's subsidiary and state Medicare provider, AHF MCO of Florida—also known as Positive Healthcare—is also heavily geared towards pharmaceuticals.
Over 65 percent of its expenditures went to prescription drugs according to an audit by the Florida Office of Insurance Regulation (FLOIR). For other major insurers audited by FLOIR, the rate was between 7 and 17 percent.
Regulations at the federal and state level require that a minimum percentage of premiums collected by insurers go to medical services rather than administrative costs and profits.
But those regulations don't address how much spending is allocated to patient services versus prescription drugs, according to Amy Bogner, a representative for FLOIR.
A representative for the AIDS Healthcare Foundation did not return a request for comment.
The heavy spending on pharmaceuticals may come from the high cost of HIV/AIDS and hepatitis treatments—a common focus of AHF's services.
Medicaid spent more money on Gilead's hepatitis C drug Harvoni in 2015 than on any other medication, almost $2.2 billion, according to Centers for Medicare and Medicaid Services data.
Gilead's HIV drug Truvada—a combination of the drugs Emtriva and Viread—topped the list of California's Medicaid spending in 2015 ($92 million), and the drug was the sixth largest expenditure nationwide ($736 million).
Local Oversight of Grants
AHF is eligible for the 340B program largely by being a recipient of Ryan White HIV/AIDS grants given out by HRSA.
But HRSA doesn't control which health-care providers eventually receive the Ryan White grants or whether the grantees fulfill the grant's requirements.
Instead, HRSA allocates those grants to cities and counties, and the locality is responsible for managing the grant to the health-care provider.
As a result, debates over how groups like AHF are using 340B revenue are left to the cities and counties.
AHF has sued numerous localities—from Los Angeles and San Francisco to Prince George's County, Maryland, and New York— related to HRSA grants.
When the city of Baton Rouge, La., recently asked AHF for details on how much of its finances were generated from 340B discounts related to city grants, AHF lost its grant rather than provide the information.
AHF then sued the city government in federal district court in Louisiana in April, and ran an ad campaign against the mayor. 
Whistle-Blower Case Tossed
In 2014, AHF was accused of accounting manipulation, providing 340B-discounted drugs to noneligible patients, and paying employees for referrals in a federal whistle-blower lawsuit in the U.S. District Court for the Southern District of Florida.
Requirements in the 340B program stipulate that only patients of a facility can receive 340B-discounted drugs. Patients are also defined as receiving care beyond that of medical prescriptions.
The civil false claims case was eventually dismissed in June 2017 under the anti-kickback law's employee exception. The court said bonuses the AIDS Healthcare Foundation paid to patient "linkage" coordinators didn't violate the False Claims Act because the coordinators were employees (United States ex rel. Carrel v. AIDS Healthcare Foundation, S.D. Fla., 0:14-cv-61301, 6/20/17). 
Millions Spent on Ballot Measures
Internal Revenue Service regulations limit registered 501(c)3 charities from spending a "substantial portion" of their activities—at most $1 million—on ballot measures, which the IRS considers a form of lobbying.
But AHF easily blew past that limit. The organization poured over $18 million into last year's unsuccessful ballot measure on drug prices in California—Proposition 61. And this year the organization has spent at least $6 million on a similar bill in Ohio—Issue 2.
The California ballot measure would have limited the amount insurers would pay for drugs and therefore how much 340B entities like AHF are reimbursed for selling discounted drugs as well.
But the measure's language exempted all state Medicare managed care plans—including Positive Healthcare's California plan, PHC California—from those price limitations.
PhRMA successfully defeated the measure, calling it "deceptive" in part by highlighting how AHF was a billion-dollar nonprofit that earns money from high drug costs, ostensibly referring to the 340B program.
Unsuccessful Litigation Against Pharma
AHF is particularly litigious against pharmaceutical companies over drug prices and drug patents—even against companies that donate to AHF and populate its board of directors.
But while the activist group leads the charge against high drug prices, they have yet to be successful.
Out of twelve cases brought by AHF against major pharmaceutical companies, all were dismissed in favor of the defendants. 
Odd Relationship with Gilead
AHF has been particularly vocal against Gilead Sciences, which it accused of price gouging for its hepatitis C drug Sovaldi and warned against using Gilead's HIV drug Truvada, calling the FDA's approval of the drug "misguided."
Yet AHF provides Truvada to patients even as AHF dismisses the drug's efficacy in ad campaigns.
Positive Healthcare still includes Gilead's Truvada in its formulary—a list of medications that the insurer will likely reimburse.
Representatives from HIV/AIDS groups APLA Health and the Los Angeles LGBT Center said that AHF does regularly prescribe Pre-Exposure Prophylaxis (PrEP) HIV medications like Truvada, despite objecting to its approval by the FDA.
Both groups added that AHF's position on the drug "made no sense."
Both AHF and Gilead are also joined at the hip through Gilead's senior vice president and general counsel, Gregg Alton: AHF's treasurer and board member.
Gilead is listed as one of AHF's major donors in 2008, giving over $350,000 to the organization. Gilead did not respond to a request to comment.
'Nonsensical' Argument Against Copay Coupon Ban
AHF was also one of a few groups beside PhRMA that opposed a recent California bill, A.B. 265, that would eliminate manufacturer's discounts on copays for brand name drugs as a way to encourage more use of cheaper generics.
AHF objected to an exception included in the bill for single-pill HIV medications, like Truvada, because it could lead to excessive costs for patients.
But a letter from other HIV/AIDS groups to California state senators said that AHF's objection didn't make sense since allowing copays for HIV/AIDS drugs would save on out-of-pocket costs.
Cathy Mudge, representative for California Democratic Assemblyman Jim Wood, who sponsored the bill, said that the exception was added because of encouragement from the AIDS community on the effectiveness of Truvada.
Even with the exception added, HIV/AIDS groups didn't support the bill and remained neutral.
None of the groups would comment on whether they were against copays in general, but gave various reasons why single-pill AIDS/HIV medications should have an exception.
Craig Pulsipher, state affairs specialist at AIDS Project Los Angeles, said that copays push patients to cheaper multi-drug regimens that are harder for patients to stay on.
Aaron Fox, health policy manager with the Los Angeles LGBT Center that also signed on to the letter, said that the exception was necessary for AIDS/HIV medications because copays can be cost prohibitive to some of the patients they deal with.
"Fifty dollars can mean the difference between someone staying or not staying on Truvada," he said.
Cathryn Donaldson, a representative with America's Health Insurance Plans (AHIP), an advocacy coalition of health care insurers, described copay coupons as "a clever marketing scheme" to keep drug costs high for everyone.
"Copay coupons steer consumers into higher cost, brand name products when safe, effective, clinically equivalent alternatives are available, essentially perpetuating the cycle of high drug costs," she said.
In June, the FDA approved a generic version of Truvada for Teva Pharmaceuticals.